Meet Our Missionaries
Sam is originally from Minnesota, USA, but after attending a short-term missions trip to Taiwan in 2000, was led by God to join YWAM in Taiwan. There he met his future wife, Carol, a native of Taiwan. In the years that followed Sam & Carol participated in local church ministry at Abundant Life Christian Church, a church planted by the late Pastor David Bedwell from Immanuel Church in Calgary. In addition to church ministry in Taiwan, Sam & Carol also served in Mainland China from 2010-2012. They have 6 year old son named Isaac. 
Missionary Work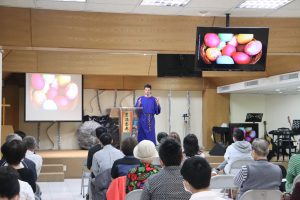 Serving Field: Tainan, Taiwan
Website:
We are involved in local church ministry, including preaching, worship team, and small group. In addition, through the work of English tutoring, we make one-on-one connections with learners of all ages, and have many opportunities to share about our lives and faith.
Vision and Future Plans
We believe God is calling us to return to China in the future to disciple young believers. In preparation for this, we are planning to return to the US for a period of time for further training and developing of a support base.